Back then, buying a watch is as easy as choosing the right watch movement, the design and features that you need, and be done with it. But, with so many different watch types being introduced on the market due to technological advancements, it is no wonder that so many people are confused about buying their horological instruments.
Well, despite the fact that there are now more types of watches out there, there are still some ground rules that you can fall back on to help guide you through the entire process.
This article will serve as the only watch buyer's guide you should ever read. Whether you are buying an automatic watch or a smartwatch, read further to find out how it is done.
Your Style
If you were to learn more about horology and the art of looking at a watch mainly from a scientific standpoint, it will take you years before you can buy your own timepiece.
The best way for you to buy one that suits you will be to look at your own style. Are you the type of person that usually wears formal suits or are you the type of person that has a rugged, more active lifestyle?
Answering these questions will help you narrow down your choices considerably, mainly because there is a watch for certain occasions.
For instance, dress watches are perfect for formal events because they are much smaller and will not take too much attention away from what you are wearing. A field watch may not be ideal for formal events, but it is indeed great for more active lifestyles (while also looking good at casual affairs).
Find the Features that You Need
There are different watch complications out there and they are basically extra added features that are embedded into the watch itself. For instance, a chronograph is a watch complication simply because a traditional watch only has three hands- the one that tells the hour, the minute, and the seconds.
Find the features that you need so it would help narrow down your choices again. Do keep in mind that there are some watches that are appropriate even for formal events.
For example, there are chronograph watches that actually look sleek when worn with a suit.
Choose the Right Type of Watch for You
There are so many watch types out there, but I will help narrow it down for you:
1. Field Watches

Originally made as a timepiece used for the veterans of the second world war, field watches have been available for the masses ever since the war ended.
It has a simple analog display and its rugged construction allows it to be used even in the toughest conditions.
2. Dive Watch

Ever seen the timepiece that James Bond wears? He is actually wearing the Omega Seamaster, which is one of the best watches in the said watchmaking company.
That is the dive watch and its main characteristic is that it can be submerged underwater at long lengths and can be used under the sea as well.
Its mechanism is protected by a pressurized cage that can withstand the pressures of undersea travel.
3. Aviator/Driving Watch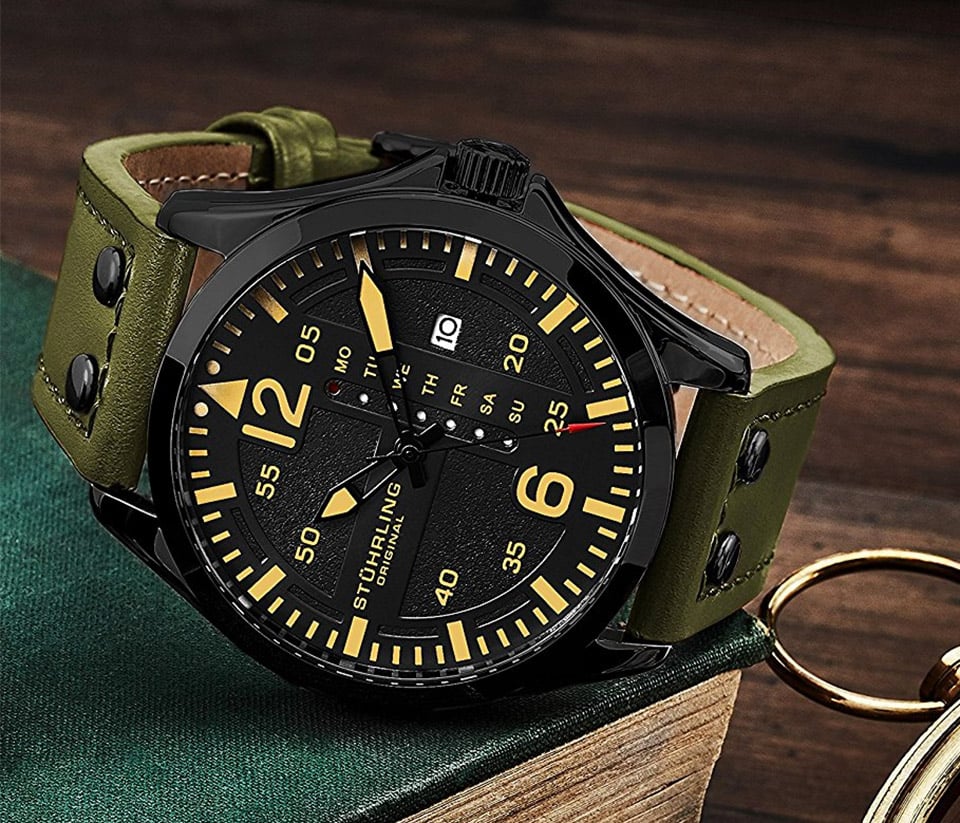 These watches look more complicated than the previous two and that is because of the inclusion of a Chronograph and an Altimeter/Tachymeter. These watches can help you find out your speed in relation to the distance traveled and other important metrics that can help racers get into their A-game.
4. Smartwatches

These are the new-age watches that can be used to help track important health statistics, including your heart rate, your sleep habits, and so much more.
It can typically work in conjunction with a smartphone so that you can keep track of your health information whenever you need it.